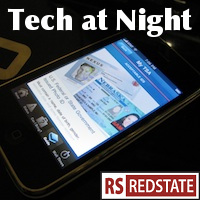 Mary Bono Mack, pay attention: Here's the model for any privacy ventures you should attempt: voluntary action by private individuals, educated by simple government actions. If you really must get government involved, teach the people to fish, so that they can protect their own privacy for a lifetime.
Because if we insist on regulating the Internet problems of the moment, not only do we expand a government that's already to big, we risk looking pretty stupid, too. Ah, Prodigy. I never did get their modem to work.
Continue reading »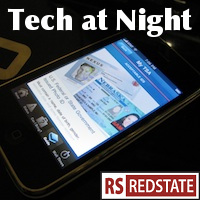 Late start tonight for Tech at Night. Sorry, but I've started a plan to get myself out of California, and to be honest I'm more than a bit nervous about the whole thing. Looking for new work in the Obama economy? Yeah.
But at least Marsha Blackburn wants to help the tech job situation by taking on Barack Obama's twin regulatory nightmares of the FCC and the FTC. The EPA isn't so hot, either.
Seton Motley is still plugging away against Net Neutrality, too, referencing Phil Kerpen's new book: Democracy Denied on the Obama regulatory scheme to bypass the Congress when implementing radical ideas.
Continue reading »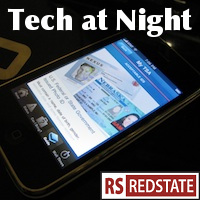 Sorry if you missed Tech at Night on Friday. I was under the weather. But I'm back, and with so much to review.
How about legislation, good and bad? Well, mostly bad.
Continue reading »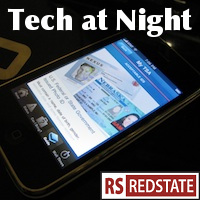 Columbus Day winds to a close, a cold slows me down, but Tech at Night marches on somehow. You know what's also marched on? The New York Stock Exchange's website. The anarcho-terrorists of Anonymous promised to take that website down (note: just the website, not the actual trading computers). Well, they failed, unless you count a two minute outage as success. Heck, RedState pretty much goes down for about 5 minutes every night, and we're not even trying.
Speaking of security: in theory I love the idea of government focusing on government Internet security, while leaving the private sector alone. It doesn't surprise me though if it turns out Obama's brain trust can't even do that right. Barack Obama's disastrous regulatory record doesn't suggest competence.
Which is why Mary Bono Mack needs to drop her ongoing privacy investigations, because it can only lead to more power for the government online, and that won't end well.
Remember when I gave a little cheer for the supercommittee's plans to auction off some spectrum? that plan is getting some criticism from people who want to keep some unlicensed spectrum free. If the spectrum can't be put to use for high-speed Internet, then maybe it's not worth bothering. If it can, though, let's do it.
Continue reading »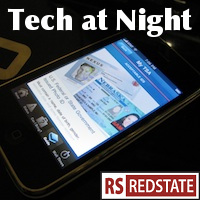 Hello everyone! I hope people have plants to get out to Charleston this weekend for the third annual Gathering. I will be there, which is why there will be no Tech at Night on Friday.
Having also missed Monday due to Gathering preparations, I have much to cover tonight. I'll start with a wrap up of everyone's favorite online terrorist group, Anonymous. I don't use that term lightly, terrorist. But any group that conspires to put law enforcement lives on the line to push an "activist" agenda is a terrorist group.
Again we find Anonymous's own insecurity as Syria slammed AnonPlus. That of course does not bode well for Anonymous's protecting itself from further legal action. Which is not good for when they announce plans to hit Facebook. FrogMarch!
Continue reading »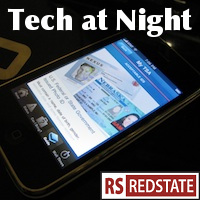 Twitter has a credibility problem on its hands, all of a sudden. Even as I'm getting blind link spam sent to me every single day on the site, Twitter has singled out a conservative activist group to have its accounts wiped out. Not only was the Empower Texans feed shut down, but every single employee's personal feed was targeted as well.
Twitter's response has been non-descriptive, and lacking in any support. Conveniently for Twitter, by blocking the accounts, it's impossible for any observer to confirm or deny their allegations of Twitter rules violations. I can only conclude, in the absence of evidence, that somebody in Twitter has decided to get political. And that is Twitter's problem to fix.
Follow FreeMQS for further developments. Update: Actually, don't. I was misinformed on this one as the story developed last night.
Continue reading »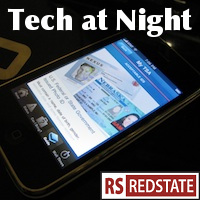 Even as Mary Bono Mack and Republicans fiddle with the pointless SAFE Data act that won't actually do anything to prevent or even to deter online crime, the Internet burns with a string of further attacks. The Senate was hit twice, and the CIA was hit as well.
I thought we were the party that likes to solve crime by putting the criminals in jail? Why don't we drop this reporting theater and get back to catching criminals blackmailing the US government and private enterprise?
Seriously? We want to jail kids who upload music to YouTube, and create a Communist China-style Internet censorship blacklist, but we're blaming the victims of online attacks?
Continue reading »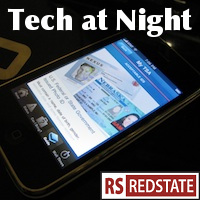 The cyberterrorist groups Anonymous and its apparent splinter group Lulzsec are getting bold. The latter gang of criminals is attempting to blackmail the United States Government after attacking government networks, which is just insane and I hope will lead to mass arrests. While the former is attacking the Spanish government after arrests made there, and suffering further damage from mass arrests in Turkey.
I hope when the Lulzsec gang gets rolled up, just like Anonymous is getting slammed, that some of them resist. OK, that was a mean thing to say, but it's how I feel.
Anonymous hub 4chan still refuses to take basic steps to mitigate the groups' ability to propagandize and recruit, such as requiring account registration or closing down unmoderated sections of the site.
Oh yes, and despite all the above attacks plus one on the IMF, Mary Bono Mack's answer is to blame the victims instead of rounding up and sending to Gitmo or Alcatraz the perpetrators.
In further news, lots going on at RedState today. Erick Erickson and Dana Rohrabacher are fighting the good fight on the America Invents Act, the Patrick Leahy giveaway that punishes inventors and favors lawyers and patent mills, in an attempt to make us more like Old Europe. I've been warning about this bill for a while, so I'm sure glad to see opposition growing.
Continue reading »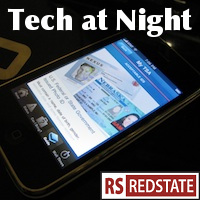 Good evening. I'm not seeing anything huge as we pass the middle of the week. But, you never know what will become important, so let's take a look at what caught my eye so far this week.
Even as Mary Bono Mack seeks to legislate on the news, or at least introduces a bill to make people feel better, Apple explains that the "location tracking" story was a non-story all along, just as I predicted. It was all about making GPS faster, and there was no real privacy issue.
Oh, yes. ICE is from the government, and it's here to help. That is, if you're a big copyright holder, but not if you're a small patent holder.
Continue reading »