So, a UMG artist did a cover of The Legend of Zelda. Now they think they own the classic chiptune by Koji Kondo, that is actually owned by Nintendo. Click to see the full image: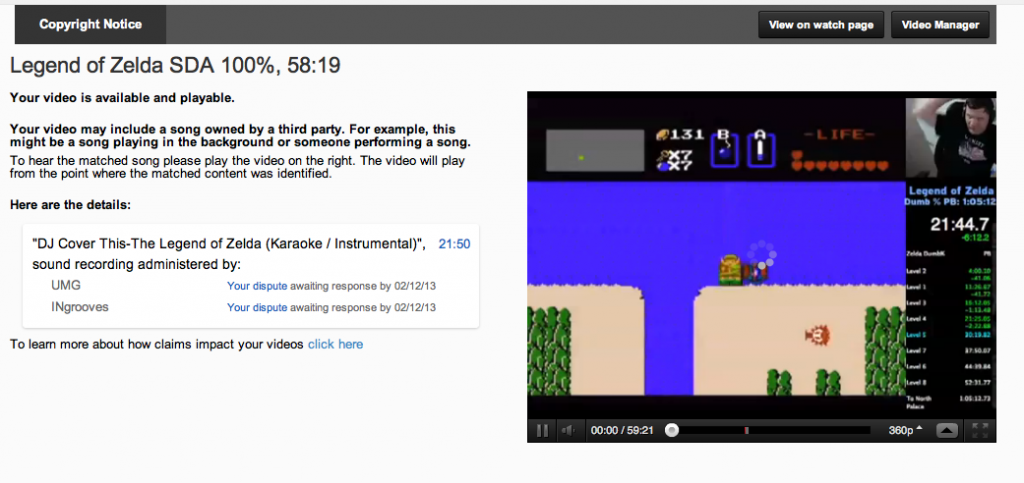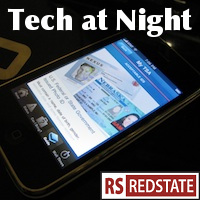 Top story: the FCC is moving forward with spectrum auctions, providing incentives for television stations to auction off their spectrum for wireless Internet use. We could see the auctions completed by the end of 2014.
Everyone admits there's a spectrum crunch, and on the right and left of the FCC they say it's a difficult question of how to transfer spectrum to alleviate it. Greg Walden is right though that this is good "if implemented well." Bruce Mehlman of iia calls it "a terrific start" and that's also true.
Continue reading »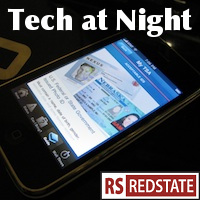 I like Moe's title here: The cyber-libertarians discover that liberals are not cyber-libertarians. The question is, will they learn, or like bad scientists will they ignore the results of the experiment and vote Obama again?
Especially as the President's team is shameless in its openly plotting to defy the Congress's rejection of the Cybersecurity Act by Lieberman and Collins.
Continue reading »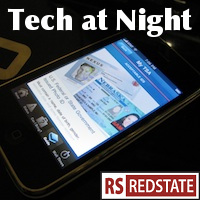 Look, 11,000 pages of regulations have been added under Barack Obama. Consider that the Federal Register only needed 71,000 pages total in 1975. These regulations are being added without transparency, as well.
This is too much, and he wants to grow government further with an executive order on Cybersecurity, which is rightly opposed by a group of Senators in the Wall Street Journal. Enough is enough.
Continue reading »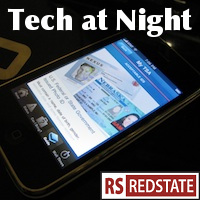 Time to defend Google: It's unfair to attack them for excluding Youtube from its "anti-piracy" penalties, when they're also excluding every other popular site driven by user-generated content. Twitter, Facebook, Tumblr, and Youtube are four sites that, whether Google-owned or not, need to be indexed and valued to a degree. The point of the penalty is to punish illegitimate sites, not legitimate sites with some illegitimate users. So, yeah, lay off this time.
However I see I'm not the only one who thought Google got off easy over the Safari privacy hack perpetrated at Google, that led to the paltry $22 million fine of Google by the FTC. I still wonder if somebody should have gone to jail over it. Who was responsible? Where was the oversight that leads up to Larry Page and Eric Schmidt? Google should have named names.
Continue reading »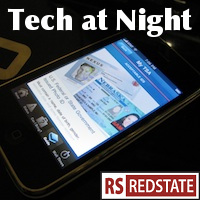 We had no Tech at Night on Friday becuase I was at the Gathering in Jacksonville. Hope those who went enjoyed it, and that those who weren't able to attend can make it next year!
So, Harry Reid offered to let Republicans fix Lieberman-Collins. Republicans took him up on that, and he was unhappy. So he tried to ram it through after all. Republicans objected, and the cloture vote failed. I'd say my support for this tactic by Republicans has been vindicated.
Harry Reid, the embattled Senate majority leader under a cloud of serious allegations about his behavior lately, has continued to try to politicize the Cybersecurity Act. Republicans tried to be good legislators. That was embarrassing to Reid, so he had to cut it off.
Proof Democrats have been bargaining in bad faith the whole time comes from Barack Obama's consideration of rule by decree on this. This of course is a bad idea.
Continue reading »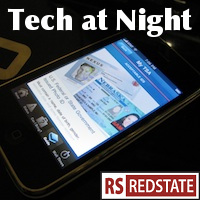 So, LightSquared. It's a funny turn this whole thing has taken. Way back at the start, when I was excited for LightSquared's potential as a 4G competitor, I was told that they were the next Solyndra. Then, when the Obama administration and LightSquared both reacted badly to requests for oversight, I was convinced. Now, though, defenders on the right are cropping up again for LightSquared. I'll say this: transparency in the FCC is worth fighting for, but a solution that leads LightSquared build a terrestrial 4G network is also worth finding.
See if you can spot the problem: As AT&T warns that FCC meddling is raising prices, the FCC is off expanding wireless subsidies.
Continue reading »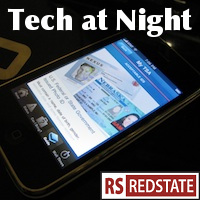 Monday night, as promised, we still have some catch up work to do. So let's start with those Amazon Taxes, those Internet sales taxes of dubious Constitutionality. Colorado's got tossed in federal court and Illinois's didn't raise any money. Obeying the Constitution counts, folks. Pass a true interstate compact through the Congress first.
Also as promised, there's the matter of the Next Generation Television Marketplace Act. This is the one where ACU has come out against Jim DeMint, and that caught my attention. I have to side with the bill DeMint is sponsoring. I think ACU simply misunderstood what's at stake here and had good intentions, but the excessive complexity of the regulations defeated them here.
The bill does not let cable providers become free riders, retransmitting others' streams for free. It just stops the law from trying to dictate the parameters of the negotiations on retransmissions. I see no harm in that, and potentially much good.
Continue reading »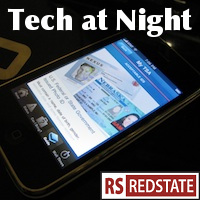 What would be a Monday without Democrats wanting to expand government by passing new laws and regulations? Some people aren't careful with their things and/or their data, so Chuckie Schumer thinks there oughta be a law. I like CTIA's response to that:
CTIA understands that when consumers have their mobile devices lost or stolen, it is an unfortunate situation as they often contain a lot of personal information. We urge Congress to not impose unnecessary regulations on the wireless industry that would cause unintended consequences.

To prevent your device from being lost or stolen, we recommend the following tips:

Know and use the security features on your device (e.g. password locks).
Use the personalization feature and put your name and a different phone number (and/or email address) so if someone finds your device, they can contact you to return it.
Download an app that allows you to track and lock your wireless devices remotely.
Keep a back-up of your contacts, calendar, etc somewhere else (e.g. computer).
Never leave your device so that it can be easily picked up and don't give your device to a person you don't know.
If you are a person who has a tendency to lose things, you may want to consider mobile device insurance. Make sure you know what the insurance plan does and does not cover.
You can't legislate good sense.
Continue reading »