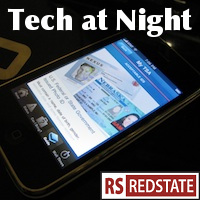 I meant to talk about the cybersecurity bill on Monday as it's a big story. But, it's gotten even bigger since. You see, a broad spectrum of Republicans is coming out against it. Names like Kay Bailey Hutchison, John McCain, Mike Enzi, Saxby Chambliss, Jeff Sessions, and even Lisa Murkowski are against the crazy Rush Harry Reid and the Democrats are putting on the bill pushed by Joe Lieberman, Jay Rockefeller, and Susan Collins.
And they're right to oppose it. The case is overblown, and even if they claim the Internet Kill Switch is gone, it's still a power grab. We're at the point where Dianne Feinstein is a voice of reason, as she promotes voluntary data sharing, a plan Tech at Night has previously supported when also proposed by Dan Lungren in the House. Yeah, seriously. If you know California political history you know how funny it is that Republican Lungren and Democrat Feinstein now have another thing in common. But I think they're both right on this. The way we'll get more secure is to share more data and to prosecute the offenders.
In other major news, the FCC has rejected LightSquared's proposal to build a terrestrial wireless LTE network.
Continue reading »