So I've been gone a while. Sorry about that. After Summer Games Done Quick and the Redstate Gathering, I was supposed to be back in action. But a case of the shingles took me down fast. I was a sleepless zombie in pain for a week. No fun. Was actually alright on Friday, but I had so much reading to do I couldn't catch up in time to post on Friday, so here we are. Hang on.
So let's start with Time-Warner and CBS. The two had their negotiations fall through with respect to carrying CBS on Cable, and so a blackout began. The left wants this as the pretext to more government, but let's be clear about this. Government created this pickle. The way out of it was proposed way back when, and backed in Tech at Night, when Jim DeMint and Steve Scalise proposed legislation. It's still the right answer.
Continue reading »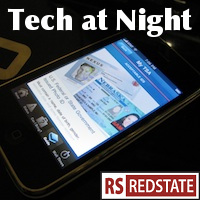 Normally in Tech at Night I try to find the big trends that can be pieced together from all the little stories we see going on. Right now the trend continues to be that Republicans are trying to make American Internet access even better than it already is, while the rest of the world is going in the wrong direction.
Don't believe me? Europe wants to regulate the Internet even more. Meanwhile, Congressional Republicans are hard at work looking to protect us online from China, and to make sure wireless spectrum is allocated efficiently, rather than set aside for Obama's preferred vendors.
Continue reading »