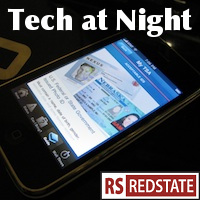 Gotta love it when Tech at Night is declared because Comcast, despite telling me they'd auto-bill my card, choose not to do the auto-bill and instead just shuts off my Internet out of the blue. Lovely. So anyway, I'm unfortunately now low on time to create lengthy narratives, so we'll do what we can.
So, Steve Scalise, a rising tech star in the House, is at it again. HR 3310 passed I believe through suspension, and now it's up to the Senate to move on the bill. It's a simple, but effective concept: Take 8 separate reports the FCC is currently making, and turn it into one report. Efficiency and transparency rolled into one.
Of course the FCC isn't the only one who studies the market. And that market is doing fine, even for older people. Wireless is the way to competition, and that's why we need spectrum.
Which is why it's insane that FCC stalls and Herb Kohl wants to make it worse on the spectrum secondary market. Stop allying with this man, Mike Lee!
LightSquared has become a lobbying firm, as it's getting rid of everyone but the lobbyists. That's the Obama era in an nutshell, folks. Losers petitioning the government to become winners.
Which to me is the key argument against the broad-based reform of broadcast and cable television being pushed by Jim DeMint and Steve Scalise, which is being debated under the banner of Retransmission Consent reform. The old laws were written with the intent of protecting over the air broadcasters from wired competition. That's wrong and harms the public.
We ned all the security information sharing we can get, people. Internet attacks continue to mount, and no, we can't trust government on this.
To those who say we need government to act on privacy: No, you can't trust them on it, as the EU is showing us.
Remember how the AT&T/T-Mobile deal had to be blocked to promote competition? Well, told you so: T-Mobile USA can't compete. I was right. We were right.
I'm all for opposing UN Internet regulation, but can we admit it's just as wrong for Obama to do it, too?
Tweet