We're still at war online, guys. The Chinese are scouting us and even criminal enterprise is under constant attack. And make no mistake DDoS attacks affect not just the target, but the networks surrounding the target, too, so even a criminal racket like Silk Road should have attacks on it stopped, for the health of American networks. And again, the anarchists SWATted a member of Congress, Mike Rogers, to fight for weaker security online.
Yet, The President and Democrats continue to obstruct CISPA, instead of getting the job done. This guy made illegal executive orders on the topic, but as soon as we take good, light-regulatory legislative action, he suddenly wants to slam on the brakes. Shameful.
Continue reading »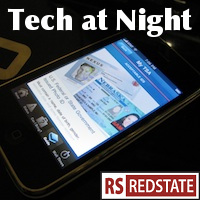 It's amazing to me that at this point we're still pretending there's a phone monopoly. Competition exists. Yes, it's obvious that nobody has a monopoly on phone service anymore. The assumption that there's a monopoly is detached from the reality of the modern market. People routinely go without landlines these days, and there's even competition for those!