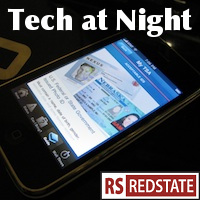 I guess legislatively it'll be slow going the rest of this year, thanks to the elections. So Tech at Night just may be shorter for a while to come. That's good for my sleep schedule, I believe.
Though the aftermath continues of Harry Reid's failure to ram through the Lieberman-Collins Cybersecurity Act, as John McCain, Kay Bailey Hutchison, and other Republicans criticized Harry Reid for poor process. It's a true and valid criticism.
Wow: After much stalling by the Obama administration, the Verizon/Comcast spectrum deal may go through the FCC
Some lefty group wants to influence the Republican platform. Heh. Must be nice to be funded for fruitless efforts like Demand Progress's, eh?
Remember: your phone is broadcasting information. If you don't want anyone listening to your phone, turn it off?
Remember the truth: Anonymous is attacking ordinary users while attacking Sony. They're criminals, not activists. They need to go to jail. And Lieberman-Collins wouldn't address that!
Tweet