Over at the American Enterprise Institute, James Pethokoukis modeled the economy and the effect of the economy on the 2012 elections. He calculated what unemployment would look like under 28 different scenarios, varying both job and labor force growth rates to cover the range of possibilities, ad the results look bad if there's any sort of return to the previous trend, should job growth rates not grow sharply.
Even worse for the President, Pethokoukis applied a model by Ray Fair to guess the resulting share of the vote Barack Obama will win based on likely GDP growth rates. Pethokoukis calls the resulting prediction a "close race," but it actually isn't. Using Swingometer and some simple math, I think the prediction is one of a nearly 100 EV win for the Republican nominee.
Continue reading »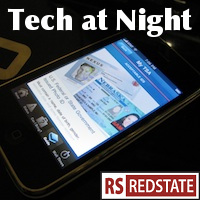 The free market of Internet access, driven by constantly improving technology and heightening competition, is a driver of job creation and economic growth. Even Julius Genachowski, Obama's FCC Chairman, has to admit that. This is just one reason we fight FCC power grabs.
So when the government starts talking about new regulations in emerging fields such as "cloud computing", just say no.
And when Steve Chabot makes silly comments about wireless competition without daring to take an actual stand on the issue of the day, just sigh and ignore him. It's a simple question, Steve. Government action, or free market. Pick a side or hush.
Continue reading »
Haley Barbour's been taking some criticism lately, which to me is a sign of how seriously people are taking his rumored Presidential aspirations, with reports indicating that he's running until he says he's not. I was able to meet the Governor at CPAC and I'm certainly taking seriously his budding candidacy. I'd like to see him run and I'd like to see him win.
Governor Barbour has the track record that shows him to be up to the job. Here are some key facts I've dug up to prove it:
Continue reading »