Updated below…
Today it was announced that the Department of Justice will attempt to block AT&T's acquisition of T-Mobile. The deal is needed for technical and regulatory reasons to allow AT&T to compete in the 4G wireless market with Verizon, Sprint/Clearwire, and with the upcoming competitor LightSquared. So why is the Department of Justice calling it bad for competition?
Enter R. Gerard Salemme. It's not a well-known name, but it's been an important one in the Obama administration. It's also a name that often comes up in the ventures of one Craig McCaw. Craig McCaw is an equal opportunity donor who gives to anyone who looks likely to win, including Gore 2000, Bush 2004, and both sides in 2008.
That $2,300 donation to Obama sure is paying off.
Continue reading »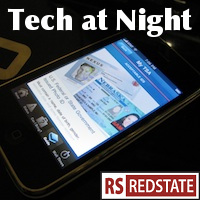 I skipped Tech at Night on Friday because I was in Austin for the Red State Gathering 2010, but I'm back now, so here we go.
We start off with what would have been the lead story on Friday, too: Net Neutrality hero and all around socialist gasbag Al Franken is now under a cloud of suspicion for ethics violations, violating Senate rules to spend money inappropriately on Net Neutrality advocacy, as well as using his role as Senator to raise money for private groups.
He's crooked enough, he's dishonest enough, and doggone it, people pay him.
Continue reading »