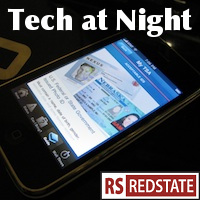 I skipped Tech at Night on Friday because I was in Austin for the Red State Gathering 2010, but I'm back now, so here we go.
We start off with what would have been the lead story on Friday, too: Net Neutrality hero and all around socialist gasbag Al Franken is now under a cloud of suspicion for ethics violations, violating Senate rules to spend money inappropriately on Net Neutrality advocacy, as well as using his role as Senator to raise money for private groups.
He's crooked enough, he's dishonest enough, and doggone it, people pay him.
Moving onto Google, the firm makes a true point about the importance of competition, conveniently enough relying on competition to prevent regulation of its core business even as it rejects competition as a safeguard for ISPs. But one example they use is not quite honest:
Google's search algorithm is actually one of the world's worst kept secrets. PageRank, one of our allegedly "secret ingredients," is a formula that can be found in its entirety everywhere from academic journals to Wikipedia. We provide more information about our ranking signals than any other search engine. We operate a webmaster forum, provide tips and YouTube videos, and offer diagnostic tools that help websites identify problems.
When all the human, manually-generated interventions, as well as language-based, speed-based, and other tweaks, are all documented, then they can say they're open like that. They even admit they're not "100% transparent," but invoke special pleading to explain why transparency would be bad for the Google Goose, but good for the ISP gander.
In short, Google is 100% hypocritical on the issue of search regulation, given the firm's strong commitment to an unprecedented expansion of the FCC's power online in the Net Neutrality debate, something that exists even in the relatively mild Google-Verizon Net Neutrality proposal.
And of course, there are proposals even worse than the Google-Verizon one, and Media Freedom reminds us of just how radical Free Press's "Third Way" deem and pass reclassification plan really is.
Tonight we finish with a few points on copyright. Darrell Issa is asking exactly the right question about copyright, as he questions whether it needs to be so long. After all, the goal of the Congress over the last 40 years seems to be to give Disney an unconstitutionally perpetual copyright on Steamboat Willie.
But instead, Orrin Hatch (R-Disney) and Patrick Leahy (D-VT, currently challenged by Len Britton) want to expand government yet again. Instead of leaving copyright holders to do their own dirty work enforcing their rights in civil court the way it always was, they want to subsidize these massive media giants like Disney, Sony, NBC Universal, and Viacom by getting government even more aggressive online.
Not that it'd even accomplish much beyond making government bigger and more intrusive, because HDCP, the protection behind HDMI, has been broken. With HDMI broken, anything that can be displayed on a television can be copied easily.
Tweet