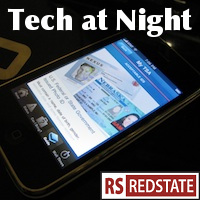 Have you ever noticed that the Soros-funded left never refers to Sprint Nextel by the firm's full name? They only talk about Sprint. You know why? If they say Sprint Nextel, it'll remind everyone that when #3 Sprint and #4 Nextel merged, wireless competition, prices, and service all improved. If you remember that fact, they think you might make the "wrong" predictions about #2 AT&T and #4 T-Mobile merging, creating a better threat to Verizon, improving competition, service, and prices.
But the whole Sprint/George Soros Unholy Alliance is all about deception. Soros-funded groups like Public Knowledge know nothing else. So says Mike Wendy: "they do great damage to the integrity of the review process, which ultimately harms the American consumer." And so says Seton Motley: "The "public interest" is best served by what the public is interested in. And the public – the consumers, the people – aren't at all interested in what Free Press, Public Knowledge and Media Access Project have to offer."
They're both right on the money. Their interests are not those of the public. they want to socialize the mass media in America. They call it media reform. Remember "health care reform?" Yeah.
Continue reading »