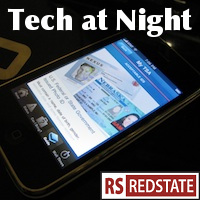 Out of control. It seems like only defeating Barack Obama in an election will truly stop this administration. Sure, for now they've been scared off of the Internet Tax, but with Net Neutrality and the Cybersecurity Executive Order still brewing, the Obama administration has more power grabs up its sleeves than we should ever have allowed.
Surprise! Anonymous lied about the Apple information leak, blaming the FBI falsely for involvement in its activities, so is probably lying about the GoDaddy attack now. Also, Frog March! Frog March!
I'm all for copyright but trying to tip the scales of the DMCA is totally wrong and an unfair idea. DMCA struck a balance, and trying to force people to pay fees to have even a chance of having their side heard in the takedown process, one already vulnerable to smurfing by alleged copyright holders, is risky and to be honest, the industry isn't trustworthy enough to be given this power.
Another group that, out of context, makes me sound like a hippy are the government-subsidized researchers who take our tax dollars, use them to fund their university work, then publish the results in closed-access journals. The journals, whose business model depends on this, fear requirements for open access to taxpayer-sponsored work, so they're whining about it. Remember: they're getting a subsidy right now, through the use of government funded research to pad their products. We're paying for the research. In fact we're being told to pay for it because we're being told the world needs this 'basic research' to benefit everyone. Why aren't we entitled to see the fruits of our efforts?
The Rural Cellular Association was pretty grossly misnamed when major national carriers Sprint and T-Mobile, both with national (but not as great as Verizon and AT&T) 4G networks available today, so it's probably good they're getting renamed to the meaningless Competitive Carriers Association. Though watch as they make that name a lie by lobbying for anti-competitive regulation to favor themselves over AT&T and Verizon.
Watch as the Obama administration is the most transparent EVAR over the Trans-Pacific Partnership! Not.
Let's be honest about the precautionary principle and admit that it's one of ignorance and fear. We're regulating on emotion, not fact, and that's why the FAA must reconsider its regulations on gadgets used in flight.
Tweet