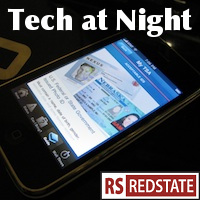 Imagine if we'd banned automobiles because all the old business models that were destroyed by them got government protection. Imagine a government that unfairly killed innovation in order to give well-connected businessmen a leg up on upstart competition. That's what big media outlets are asking for when they come after Dish Network's innovative DVR service. And of course, given the Obama administration's track record of unfairly picking winners and losers, they might get what they want.
Cybersecurity update: New Jersey Democrat Felix Roque arrested for trying to break into a website trying to recall him.
I again am thankful that Joe Barton got term limited out of being Chairman when I see him being a big bully against private business. For shame. Stearns has done good work, and I can forgive an occasional mistake. But big government all the time is the norm for Barton this Congress. Primary this man please.
Another person I can forgive for his transgressions is Mike Lee, who's making sense on spectrum on Verizon/Comcast. I wish he'd give up his Jihad against Google, but we'll work on that.
A name that looks to become a regular in Tech at Night is Steve Scalise, who's apparently taking Darrell Issa's lead to reform the FCC by suspension.
Tweet