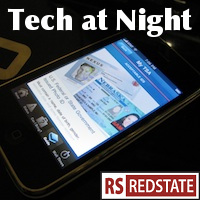 Happy Friday. We'll start off this edition with Marsha Blackburn's own post at RedState. There's a reason I would like to see her rise higher on Energy and Commerce: she knows her stuff and is a fierce proponent of conservative values. I agree with her: government is not the solution to the privacy problem.
I don't agree with Joe Barton, whose plans for heavy-handed regulation make me glad he didn't get the chairmanship. "There oughta be a law" is no way for a Member of Congress to think.
As frustrating to me as Barton is Lamar Smith's plans to push yet another bad Patrick Leahy bill, PROTECT IP, through Judiciary. I've covered that bill in this space extensively. We don't need, and can't benefit from, a national censorship blacklist online. The guilty won't be affected much and only the innocent will work. It's like gun control, up to and including the unconstitutionality.
Yet another reason to oppose PROTECT IP: we can't afford it. CBO scores the new program at $10 million per year. Now is not the time to create new programs. The deficit is already too high. PROTECT IP to the US Government just might be a wafer-thin mint to Mr. Creosote: we might burst from the overspending.
Anonymous loses a hacker from its roving cells of online terrorists. They're starting to realize that the law will get them, and that they're not actually achieving anything but crime. The Sony attacks weren't the Anbar Awakening I hoped they were, but I'll take what I can get.
According to Sprint, it's a terrible, bad thing for competition and for the public if a major wireless firm buys another to enable it to give proper 4G service. Well… maybe not, now that Sprint may buy the rest of Clearwire. Heh. It'll be fun to watch the fancy footwork on this one.
Meanwhile Free Press is desperately trying to gin up support among Democrats for using big government to block the AT&T/T-Mobile deal. Apparently even Democrats see the value of this merger, given America's continuing problems with spectrum.
Free Press apparently has good reason to be panicing. Analyses I'm seeing by investors suggest that AT&T's deal will be approved. Some redundant assets will be divested, but AT&T will get the T-Mobile spectrum needed for the firm to compete in 4G nationally with Verizon, Clearwire/Sprint, and soon LightSquared.
Tweet