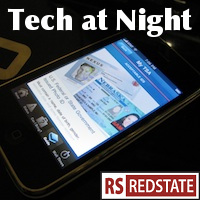 California's Democrats, having refused to get tough with the unions who coincidentally will fund their re-election campaigns, are still determined to raise taxes. So they continue to push for an unconstitutional Amazon Tax on the Internet that just might cost the state more than it brings in, in the long run. They're playing with "thresholds" to try to focus the bill on specific companies like Amazon, narrowing the tax base and making the idea even worse! So yes, as Calbuzz says, it's still a bad deal for California.
And just think, soon the rest of the country going to face the same problem as Dick Durbin's Internet Tax would target Amazon nationally.
The House is making noises about privacy in response to rumors that Apple and other companies are tracking where people move on their phones. The problem is, unless there's actual sending of this data places, there is no problem. If caching of locations saves battery, then we want this feature, and for government to bully firms into disabling it would make us all pay. So let's hope this stops with some letters.
Secure your home networks, folks. I said it after Google WiSpy, I said it about Firesheep, and I'll say it again: If your home network isn't encrypted and password protected, it will get abused. Yes, it's a hassle entering long, random keys into your iPhone, Wii, and Kindle, but it's worth it.
Rumor has it that the Playstation Network is done not because of Anonymous attacks (and in fact, Anonymous was on 4chan today pleading with the community not to hold it accountable for the outage, and disavowing any connection with it), but because Sony made another terrible error in its software engineering. First the broken Playstation 3 encryption made Sony look incompetent. If PSN is just as broken, then this is a sign of endemic incompetence at the firm.
And to close the night, eighth grader Melissa Yu won a C-SPAN award for a video on Net Neutrality. Yes, she mentions that the PCCC's Net Neutrality pledge signers went 0 for 95 in 2010, and so proponents of NN have to go the regulatory route to get what they want. Good job.
Tweet