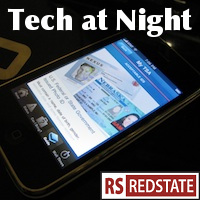 This week I already called upon Rick Perry to veto the Texas Amazon Tax, and now I'm left to hope that California Democrats will be less stupid than Joe Straus. Sigh.
Meanwhile the posturing around the AT&T/T-Mobile deal continues. We find from a press conference with COMPTEL CEO Jerry James that the Rural Cellular Alliance is joining with radical left, George Soros/OSI-funded group Public Knowledge to favor government intervention. If only they realized Soros will turn on them as soon as they're no longer needed to pursue their socialist agenda.
The Wall Street Journal has also looked into the unholy alliance against AT&T. The leading members are of course direct competitors: Leap Wireless, MetroPCS, Sprint. Verizon is also mentioned, but the WSJ lists good reasons Verizon really wouldn't mind either way. I also see one good reason for Verizon to want to see AT&T and T-Mobile win this: Anything that happens to AT&T now can also happen to Verizon, and Verizon becomes public enemy number one if it's the undisputed leader of the industry. Sprint, meanwhile, doesn't have to worry about being #1 because Sprint these days literally has to mooch off its competitors with things like the FCC Data Roaming order just to service its customers, so relatively little does it invest in its network anymore.
John Conyers and Edward Markey are also pressing for big government here. Look, even if you're the biggest T-Mobile fan, the writing is on the wall regarding the fans of government intervention here. Everyone who is opposing this deal is self-interested, socialist, or both.
Continue reading »