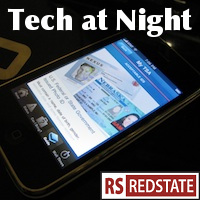 Sorry for missing Tech at Night on Monday, but I had to rest up for Election Day. And of course, as you may have heard, Republicans ended up having a good night. What you may not have heard though, was that the forces of radical Internet regulation had a very bad night. Democrats went for broke on Net Neutrality but as covered by Moe Lane and RS Insider, support for unilateral regulation of the Internet killed Congressional jobs. Every single member who signed the PCCC pledge to support the FCC on Title II reclassification, lost. Every one of them!
It's time the FCC owned up to the rejection the American people dealt their plans, and pledged to wait for Congress to act.
In case you didn't have enough reason to mistrust Politico, guess what? Politico's parent company Allbritton is yet another Internet company siding with the FCC. Politico: just another lefty rag with a lefty parent.
Random note for possible use by the readers. You may wonder how to protect yourself better against Internet snoopers like Google Street View, and even some more active forms of attack, and Digital Society has a decent-looking primer on the subject.
Speaking of Google: it's no wonder the firm wised up and split from the Free Press radicals on private networks as they relate to Net Neutrality, when Google is now to build a private network for Stanford.
And it's not only the US government that's letting Google off the hook for the WiSpy street view scandal, though. For some reason the UK is letting them off the hook entirely. Scotland Yard is calling off the investigation in return for Google promising not to do it again. I'm at a loss to explain this, myself.
Remember the old catchphrase "Information wants to be free?" Don't tell that to the authors of the video player engine VLC. They're looking to take down VLC from the Apple App Store for violating the terms of the GNU GPL. They must restrict your choice of video players for your own freedom of choice, you know.
So many issues seem to boil down to that: people want to regulate you and take away your choices for your own good. Nanny state knows best. Which is why I supported the Waxman bill warts and all: it put a cap on just how much the nannies on the left could actually do.
Update: I almost forgot this story: Google has now contacted Google Buzz users. Apparently the firm is settling a class action lawsuit over the service, though the actual victims won't receive a dime. Funny how that works.
Tweet