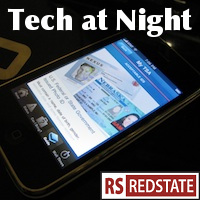 It's Monday, so it's time for that weekly self promotion of mine. This week at the Daily Caller I discussed NISO, an information sharing proposal by Dan Lungren that would get government in a role of improving our security online without compromising liberty and innovation.
And now back to SOPA. Now Eric Schmidt realizes we don't want government to have a huge role online, complaining that SOPA would "criminalize linking and the fundamental structure of the Internet itself." Yeah, I'd say DNS is part of the fundamental structure of the Internet, and that's why I support Darrell Issa's and Ron Wyden's OPEN Act alternative. They would have us go after infringers abroad rather than attacking the Internet at home.
Jennifer Rubin pointed out that SOPA is overkill, which it is. Effectively undermining the fundamental structures of the Internet just to go after counterfeit handbags and Bittorrent streams of Scary Movie 3? Come on.
Notice how no matter how many people complain about SOPA, it's always the MPAA with a response? Isn't that a clue that this bill is being pushed to benefit one specific industry, just a little bit?
Continue reading »