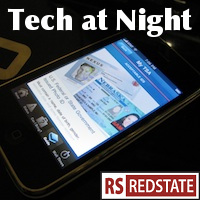 Some have said that the Obama administration is saving up disastrous regulation for the second term, but the FCC is wasting no time. Not content to obstruct wireless innovation with painfully limiting spectrum policy, FCC is now duplicating FTC efforts and playing speed advertising nanny.
Duplicative regulation protects nobody. It's adversarial. Mitt Romney must make it a priority to appoint reformist regulators to pare back regulation, allowing more marginal business growth opportunities to pan out, creating more jobs, creating more demand, and so growing the whole economy out of the Obama valley.
Continue reading »
I have two computers on my desk. I have my iMac (20″, 2.4 GHz Core Duo) that I use on a daily basis, but then also I have some Compaq laptop I use for development purposes, when I need access to other operating systems. Up until now, as a rule I've used my old trackball on the new laptop. Well, in general there's a reason my old trackball is my old trackball: it doesn't work well anymore. And I've gotten tired of the old one not working well, in this case my (second) Kensington Orbit trackball.
Well, I've been interested in the Apple Magic Trackpad. It's a fascinating concept to me. It's genuine innovation and I hope it succeeds well. So, I bought one to try out with my laptop. Oops: this miserable Windows box doesn't have built-in Bluetooth support, something I've grown accustomed to in Mac land. I'd already spent the money, so I got bold: I attached my beloved Kensington Expert Mouse (complete with buttons 3 and 4 configured to activate Expose and Spaces respectively) and put it on the laptop, then configured my Magic Trackpad to use with my iMac!
I had to give it a fair try.
Continue reading »