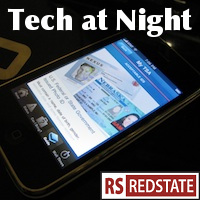 This edition of Tech at Night is unfortunately delayed. It's almost 4am now as I'm able to start this (7am eastern) because I had a bout of Net Neutrality to deal with. All websites loaded at the same speed on my DSL: zero. Total downtime.
So, late or not, let's go. As I warned on Monday, Net Neutrality is forcing ISPs like AT&T to impose reasonable caps on their services. Known freeloader Netflix demands that AT&T users who don't use Netflix subsidize those who do, which is of course completely unfair, which is why AT&T isn't allowing it. Anyway, the rate caps aren't that small, and $10 per 50GB over isn't bad at all. Ask any wireless Internet user what you'll get for $10.
More FCC power grabs are on the way, it seems. The FCC has what you might call a conflict of interest: the wireless market must be declared non-competitive for the FCC to be allowed to intervene. Who decides whether that market is competitive or not though? Yup, the FCC. So Fred Campbell warns that the FCC may ignore the Congress and just say whatever it takes to do whatever it wants. Boy am I glad we have Republicans in DC who are on top of the FCC already. This may take swift action to combat.
Continue reading »