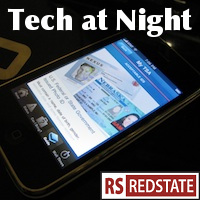 In a startling turn of events, I'm starting tonight's edition of Tech at Night at 6pm, roughly 8 hours earlier than I have been starting it lately. Imagine that.
Top story is a shocker. I mean, I had no idea the Democrats would get this far out there. Dick Durbin, Democrat of Illinois, wants to pass a national sales tax solely on Internet transactions. The sole purpose of this bill is to raise prices on all Americans who buy things online. This is basic stuff, folks. Every Republican needs to oppose this concept. Every single one. I will be taking names of the deadbeats who join with the Democrats on this, and I will be pushing for sanctions at the ballot box.
Meanwhile, The FCC is in need of major reform. Need to know why? Let's start with this Harvard Business review look at the FCC. It's not the most accessibly-written article, but it explains how the FCC is basically rigging its competition analyses to prevent itself from having to demonstrate that the wireless market is competitive. Direct evidence of competitive prices abounds, even in markets with less competition. I like this conclusion:
If regulators are opposed to consolidation as a means of addressing the spectrum crunch, the remedy is not to deny a licensee the right to sell or trade their spectrum as they see fit, but rather to get on the stick and get more spectrum out there faster. As in now.
House Republicans are on the case, too.
Continue reading »