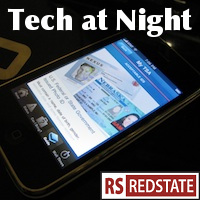 Tech at Night is starting a little later tonight than I planned. I ended up showing my brother The Greatest American Hero on Netflix. Oddly enough I had no trouble with that despite the Net Neutrality framework not having taken effect.
But yes, the big story is that the FCC voted to regulate the Internet. This has been coming for a long time, but now that it's happened, our side is motivated like never before. Here's a roundup.
Marsha Blackburn calls the FCC's action a "Halloween tale" terrible to sneak in during the Christmas season. I expect her to be a leading figure in the fight against the FCC next year.
The Las Vegas Review-Journal suggests that "perhaps it is time to close the FCC and let the free market set the rules and the prices."
FCC Commissioner Meredith Attwell Baker, one of the dissenting votes, points out that it is not "appropriate for unelected FCC officials to make a decision with such potential long-term consequences for the Internet economy, for high-paying jobs and for the nation's global competitiveness without explicit direction from Congress."
Fred Upton and Republican House leaders are gearing up to fight. They promise "immediate action" "to strike down net neutrality." through a proposed Congressional Review Act. Imagine that: legislators being in charge of writing the law of the land. Novel concept. Upton's site also has its own roundup on the issue which I'm not linking just because it quotes me. I promise. Really.
Phil Kerpen calls the FCC action a "coup" while reminding us that the voters already ruled on Net Neutrality by defeating all 95 Net Neutrality supporters of the Progressive Change Campaign Committee pledge. John Fund also calls it a coup. The word I'm reaching for is that it's executive rule by decree, Russian style.
Richard Bennett points out that it is good to get this "off the table" even if it's a problematic plan. My view: it could have been worse, and the damage has been mitigated while we rally the Congress to respond. Meanwhile we can begin to discuss legitimate tech issues, and not made up ones like Net Neutrality.
Michelle Malkin takes a step back to the bigger picture, and reminds us that "Internet Access is not a Civil Right" over at NRO.
And to wrap up the night, a new site that may be worth reading. I'll have to watch it a while. Technology Liberation Front reads the dissenting opinions at the FCC. Both Commissioner Baker (already linked above in a separate piece) and Commissioner Robert McDowell are thorough. The whole article is worth a read. It's not long.
The fight begins anew next year. And this time we have leverage.
Tweet