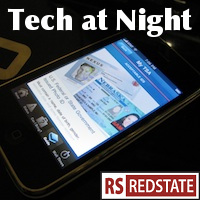 Not much to say tonight, which is good because I think I'm getting sick again, and if I had a lot to say I'd probably just skip tonight's Tech.
It's official: the race for FCC handouts is on, as the FCC voted to repurpose the old rural telephone subsidy, the Universal Service Fund (a fund that comes from your special tax dollars) into a grab bag of Internet subsidies.
In 2013 we should look at repealing the whole thing, just as Republicans continue to press for Net Neutrality repeal.
I've said it again and again: Sprint Nextel's actions do not match the actions of a firm that believes it will be an oligopolist with price setting power after the AT&T/T-Mobile merger. Its actions match those of a firm that fears greater 4G competition. Becuase competition is indeed what it fears, and certainly not from T-Mobile, a firm with no subsidized iPhones on offer.
Tweet