The morning started off nice. I'd set my alarm back 15 minutes so my mornings could start that much slower. It worked, I woke up leisurely, I got ready, and in fact I had time this morning to swing by my post office box before taking the train.
That's when things started to go wrong.
Continue reading »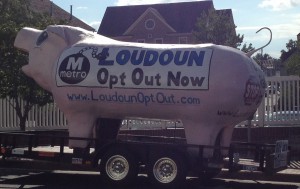 Here in northern Virginia, there's a huge local political issue right now. WMATA and MWAA, the DC-area transit and airport authorities want to extend the DC Metro train system out to Dulles Airport. That's fine. It's their prerogative.
The problem is that the Beltway people want to make the people of Loudoun County pay for it. That's the problem, and that's why a pig was parked next to the Loudoun County government center in Leesburg on Monday.
Continue reading »