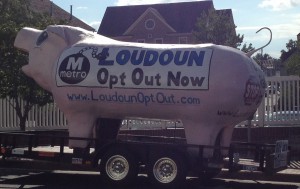 Here in northern Virginia, there's a huge local political issue right now. WMATA and MWAA, the DC-area transit and airport authorities want to extend the DC Metro train system out to Dulles Airport. That's fine. It's their prerogative.
The problem is that the Beltway people want to make the people of Loudoun County pay for it. That's the problem, and that's why a pig was parked next to the Loudoun County government center in Leesburg on Monday.
The people of Loudoun County don't actually need the Metro Silver Line, as they're calling the new line that will run on the planned extension from Falls Church to Loudoun via Tyson's Corner, Reston, and Herndon. The people who live and work there already have two great options to get there. The first is to take one of the highways there, driving either on the toll road or the freeway. The second is to take the comfortable Loudoun County Transit busses that run one way from as far out as Purcellville all the way into downtown DC, and the other way going from Falls Church as far as Leesburg.
I know it's perfectly practical, right now, to commute from the DC area to the middle of Loudoun without a car. I do it regularly. I live in the Crystal City neighborhood in Arlington. My employer is based in Purcellville. I'm fine. Loudoun County Transit gets me from Falls Church, near the Arlington/Fairfax border, through Fairfax, and all the way to Leesburg with no problem. From there it's a hop on the local VRT* bus into Purcellville. The same kind of commute would be possible to and from a variety of locations in Loudoun County.
So you see, the people of Loudoun don't actually need this. Who wants this are uppity Beltway folk who just want to get on a train in downtown DC or Rosslyn, and ride it all the way to Dulles airport. They don't want to have to get off at Rosslyn or Falls Church and hop a Washington Flyer bus.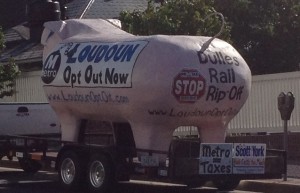 And again, I say that's their right. What's not fair is that they want the people of Loudoun to pay for it. That's where the Tax Pig comes in. The plans are starting to come out for how Loudoun County is expected to pay for their part of the Silver line, and it's not pretty. Higher tolls. Business taxes. These things punish the people and businesses of Loudoun that made it prosperous to begin with, and worse, are self limiting.
Yes, this would only be the beginning of Metro taxes. Once the tolls go up, more people stop taking it and start taking the freeway, which results in less toll revenue than projected and slower commutes for many Loudoun County residents. Additionally, businesses would simply leave the affected tax areas, reducing projected revenue and necessitating higher taxes.
And that's not even counting the inevitable cost overruns, which are bound to happen as the project tries to defy Virginia's right to work law.
I make the long commute from Arlington to Loudoun. I'm just the kind of person that the Silver Line is supposed to help. But I oppose it. Busses work better for a low population density area like Loudoun. Metro, with its institutional racism and forced unionization, is less reliable than LCT. Metro can't even keep escalators running, let alone the Red Line. And the Silver Line isn't going to get treated any better than the Red Line, because in WMATA's eyes, Virginia is second class to DC.
How do I know this? Rush+, the new scheduling coming out this month, is a grand plan to favor DC-centered traffic over intra-Virginia traffic (people like me). The plan guts the Blue Line proper, cutting service from Rosslyn to Pentagon, to make room in the Foggy Bottom-Rosslyn tunnel for future Silver Line trains. Service to Franconia is replaced with new Yellow Line-badged trains coming from L'Enfant. Service to Largo is replaced with Orange Line-badged trains coming from Vienna. What do those lines have in common? They go through DC. Those with no need to leave Virginia lose out.
So yes, even when WMATA is pretending to service people like me, they can't even do that right, and plans like Rush+ telegraph the truth. This is all about DC folk trying to go to and from the airport in a Metro cocoon, with Loudoun paying for it.
Just say no to the Metro Tax.
* Yes, VRT has the worst site in the world. All flash, making it impossible to check a bus schedule from the bus stop itself.
Tweet