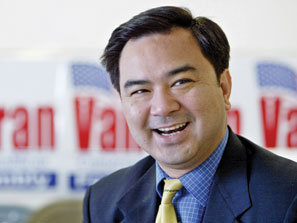 California's 47th Congressional District isn't one of the ones getting national attention this year, but it should be. Loretta Sanchez may not be one of the most hated Democrats in Washington, but the circumstances surrounding her initial electoral "victory" are so shady that she has no business being there. She's been kept in office thanks to California's lockdown gerrymandering, but somehow her seat is still being listed as competitive this year by some analysts.
It would be a great victory if we could avenge Bob Dornan, take that seat away from Loretta Sanchez, and send Van Tran to Washington. His family driven from Vietnam by murderous Communists, himself once an intern for B-1 Bob and now a veteran of the California Assembly, Van Tran would be an asset in Washington even without the added joy of finally sending Loretta Sanchez packing.
Back in 1996 we'd just started to get over the worst of the illegal immigration crisis in California. The border fences of Operation Gatekeeper and the clear message sent by Proposition 187 mattered, but we still had a great number of illegals here in California. So apparently some non-Americans wanted to strike back, and Bob Dornan was the target. When Loretta Sanchez "won" the election, Bob Dornan challenged it, and sure enough, even in the first round of the Congressional investigation, 624 votes of Sanchez's 984 vote margin were thrown out as having been illegal votes by people who were not American citizens. 4,700 more possibly bad voter registrations were found, but nothing was done, so Sanchez was seated in the House, where she remains to this day.
It would do great, though belated, justice for a former intern of Dornan's to reclaim that seat for America, and Van Tran can do that. It also doesn't hurt that in Sacramento Tran has been a fighter for spending restraint, parental oversight over schools, and protecting the public from violent felons being released from prison early.
Please consider helping send Van Tran to Washington and kicking out Loretta Sanchez, who should never have been seated in the first place.
Tweet