As I've gotten older I've gotten sick of watch bands that wear out. My last watch I finally replaced the band with something woven so it wouldn't wear out. With that solved, the rest of the watch lasted as long as it can, and now that old one (Casio DB-35M) is wearing out badly. It's about 8-9 years old, it's nicked up, and the buttons are getting very hard to push. So I went to replace it.
But the band issue was high in my mind, so this time I ended up making a departure from my usual watches, all of which tend to come with the awful resin bands. I shopped and shopped, which was fun because I kept seeing classic styles I longed for when I was a kid. But I know what would happen band-wise, so I kept shopping. But on the other hand, the watches with the better bands tend to be more expensive and more decorative, with fewer features. Hey, I use my countdown timer. I cook things. Also, spending $300 on this was just not an option.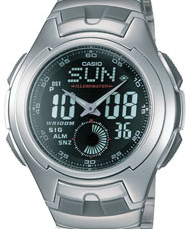 But finally I found the right tradeoff: the Casio AQ-160. Full featured watch with a metal band, which I've never had. It even has hands on it, which is something I haven't had on a watch since I was about 12 or something. And it was only $34 plus tax and shipping from Walmart.
Some people buy watches to look good. I buy workhorses. I look forward to getting years out of this one.
But now I'm tempted to start digging around for watches to put together a history of the watches I've used since I was little. Yes, I always liked looking at watches. But that time will be better spent getting the tools I need to shrink this band to fit.
Tweet