There is a rush tonight to try to identify the true interpretation of the Republican electoral results. Many of them will be shared on the Internet, but this one is mine.
This wasn't the first close race. Mitt Romney has won them previously. What's different about tonight is that Rick Santorum pulled it off this time, This defied expectations, and went counter to everything I thought I knew about Team Santorum.
I conclude that the story of Tuesday night was not one of personality or of message. Instead, what happened was that the Santorum campaign proved that it has changed, and unlike before is becoming effective at turning out more voters than Team Romney, and as a result is capable of winning statewide primary elections.
Continue reading »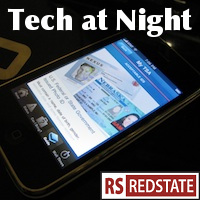 Remember the SECURE IT bill, backed in the House by Marsha Blackburn and Mary Bono Mack, and in the Senate by John McCain and the gang? One of the key reasons I like the idea is that it enhances our options for prosecuting online crime. And contrary to ACLU hysteria, it's not the Republican bill that is a threat to our liberties. Sharing reasonable, relevant information is not a problem. Guess what: information is the life blood of Internet defense. The Lieberman-Collins threat of an effective government take over of the Internet: that's the problem.
Also a problem though are the attackers themselves: whether far away or based in an allied nation, information sharing is vital to defense. And when they're domestic, criminal prosecution hurts them.
Continue reading »