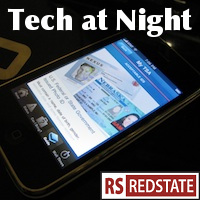 So, read any good Tech posts lately? OK, I couldn't think of a better way than that tonight to introduce a pair of RedState posts on the top story of the moment: AT&T's announced plans to acquire T-Mobile USA from the Germans. It seems that there are two major conservative perspectives on this deal.
One was described by LaborUnionReport on Sunday: if the non-union T-Mobile workforce is forced under the unionized AT&T umbrella, then the CWA and the AFL-CIO literally profit. And sure enough, the AFL-CIO has now come out in favor of the deal, even though much of the radical left is going to oppose it. I've mocked the CWA in this space for backing Net Neutrality over the interests of its members, but apparently blocking this merger would be a bridge too far, because blocking the merger would be against the interests of the union bosses.
However I disagree with blocking the merger regardless of the union issue. If we want to fight forced unionization, let's pass Right to Work laws and reform the NLRB. Let's not stop a merger that should improve the wireless service options and quality available to Americans, effectively increasing competition by merging two tech laggards together.
Continue reading »
An academic by the name of Randall Bytwerk has gathered together an impressive snapshot of history in the form of the German Propaganda Archive, which covers Nazi propaganda from the early days of the party to the 1945, and then covers Communist Germany's ruling SED Party propaganda from 1949 to 1989*
What I find interesting about the archive is not only how it shows that the Nazis really were another party of the left, but just as Stalin claimed that Nazis were the allies of the "crony capitalists," so too did the Nazis claim that about the Communists!
Continue reading »
In the fast-paced, highly-competitive market of wireless phone and Internet access, this announcement stands out. The wireless carrier with the second-most subscribers, AT&T, is to acquire the number four carrier, T-Mobile USA. Some would say that this is a grave threat to competitiveness, risks reducing competition and increasing prices on everyone, and so should be stopped by the benevolent masters of the Obama administration. I disagree.
This is a young and vibrant market, with many competitors already out there, and more yet to come. The acquisition of a lagging company by the #2 company only puts pressure on the #1 firm, Verizon Wireless. Not only that, but existing regulations are plenty strong, and will almost surely result in resources being made available to lesser firms, reshaping the market without reducing choice.
Continue reading »