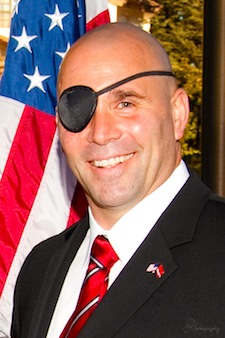 Nick Popaditch is running for Congress. Previous occupation? Gunnery Sergeant, USMC. That patch he wears? Not preparing for Talk like a Pirate day, but rather a wound at Fallujah. His district? California's 51st.
Oh yes, that district. Inland California tends to be right-leaning, but Imperial County is one big exception. It's a poor expanse of desert along the Mexican border stretching from Arizona to San Diego County. Since redistricting shifted the seat's number from 50 to 51, Democrat Bob Filner won by 19, 26, 27, and 48 points. This is not friendly territory, so it's good we have a tough, strong, disciplined candidate like Nick Popaditch running there.
You can't get upsets unless you have a good challenger ready, and Nick Popaditch is showing us how that is done.
Continue reading »